Brodie Communications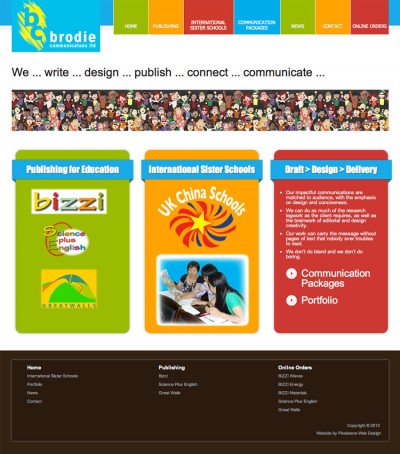 Brodie Communications is an educational publisher in Wales.
Their new website designed and built by Pixelwave Web Design is a bold, colourful eye-catching design that I'm quite proud of. Better still, the client seems to like it was well. Most of the site is a simple, static, brochure-style website that is easy on the eye, professional yet fun and engaging too. Built in standards compliant HTML5 it works well across all modern browsers and devices and degrades nicely on older versions as well.
In addition to informing the visitor to the website about Brodie Communications and their services, there is also a small online shop where customers can buy their publications. The website also features a latest news section with an easy to use Content Management System that allows staff at Brodie Communications to update their website free of charge whenever they wish.
Work Done:

CSS and HTML Template Design, Production, PHP Coding, Search Engine Optimisation, Information Architecture, Support, Maintenance. Website Launched April 2012.
<< Portfolio | Visit Brodie Communications >>