Mid Wales Vintage Machinery Club
The Mid Wales Vintage Machinery Club website is intended as both a promotional tool for the Club and as an information point for members of the club. It will be used to encourage new members to join the club and will assist with the sharing of information for existing members.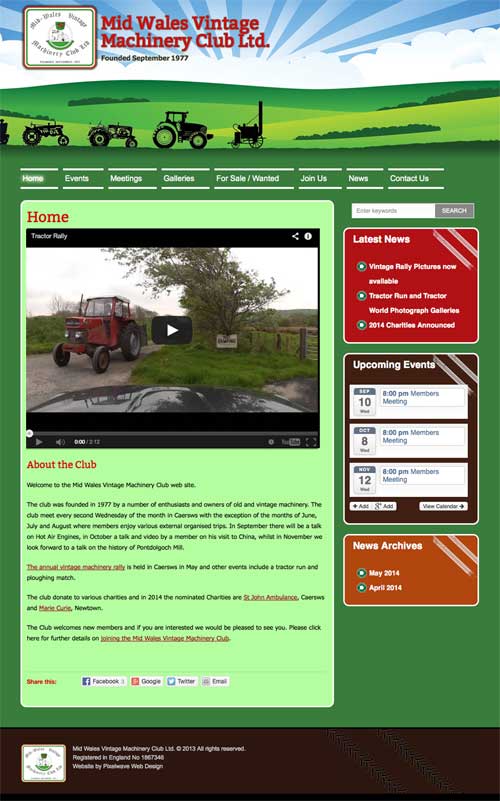 As well as describing the Mid Wales Vintage Machinery Club and its activities, the website provides visitors with descriptions of the various activities on offer. It will provide group members with information relating to meetings and events and will promote rallies to both members and non-members. The intention will be to inform and stimulate interest in the Mid Wales Vintage Machinery Club and to encourage new membership as well as providing existing members with a useful 'information hub'. The website contains a latest news section which will be updated by Mid Wales Vintage Machinery Club on a regular basis.
It is hoped that the new website will bring the club up to date and encourage a more open and up beat feeling within the club
The clients and club members all seem delighted with their new website which is built around a Content Management System. This will allow them to keep their website it up to date, adding and editing content whenever they wish and will allow them to add new events to their online calendar too. I've spent a morning with the club members who will be responsible for adding their content to the site to show them how to use the Content Management System and they seem happy with it. So I wish them all the best with their new online presence.
Work Done:

CSS and HTML Template Design, Production, PHP Coding, Search Engine Optimisation, Information Architecture, Support, Maintenance. Website Launched January 2014.
<< Portfolio | Visit Mid Wales Vintage Machinery Club >>