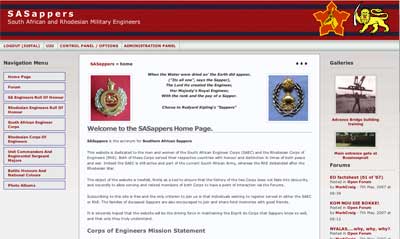 SASappers is intended for access by serving members of the South African and Rhodesian Military Engineers and more importantly as a contact point for retired engineers. Its requirements as a community website therefore made this project an ideal candidate for a forum based website that allows members to post and reply to each other in topic based threads. In addition to this there are a set of photo galleries that allow the administrators to add images and photos at will. If required the software used to drive these photo galleries can also allow individual members to have and maintain their own photo albums.
Login and membership details are integrated throughout the site, and in addition to adding images and posting in the forums members have their own personal profiles and are able to send private messages between themselves.
Pixelwave Web Design had little to go on design-wise with this project, just the regimental colours, so a clean, easy to use design was used.
In general terms, community based websites can be difficult to get off the ground as they tend to need a certain base level of membership to make them attractive to other members. However in this case, the proposed membership is a very distinct set of individuals all of whom will have similar experiences that they wish to share, so there was a good base from which to develop a community website
Work Done:

Website Design, Layout, Production, Web Hosting, Web-Hosting, Website Maintenance.
<< Portfolio | Visit SASappers Website >>