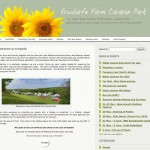 I'm pleased to announce that I have recently released a brand new website for Erwbarfe Caravan Park. The new owners of the caravan park approached Pixelwave Web Design abut a year ago asking if I could build them a website that would act as  a promotional tool for the Caravan Park.
After an initial consultation we decided that it would be nice for it to have a personal feel and as the park owner wanted to blog and share her love of the area with the wider world it was decided that in addition to providing information on the facilities available at the caravan park, the website should also highlight places to visit and activities to do in the area and contain a "news and events" section. The news and events section will be updated regularly and used as a weblog for the park owners. It took a while to get the initial content together but once I had it, the website was soon built and is now live online.
The website is designed around an easy-to-use Content Management System allowing the park owners to update the site and the news and events whenever they wish. The finished article looks good, does the job it was intended to and everyone is happy. It has been live for a few weeks now and the recent feedback from my client makes it all worthwhile.
By the way, I've had loads of great comments about the site, everyone thinks it looks fab and I've already had lots of enquiries from it!  Hope you're pleased with it too?  Have put your cheque in the post today.